Koopa
pl. Koopas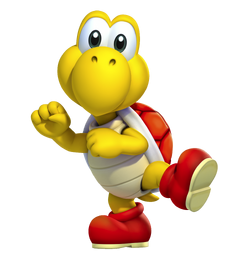 Koopas or Koopa Troopas are bipedial antropomorphic turtles from the Mushroom Kingdom.
They come in multiple forms and colours.
Anatomy and appearance
Edit
Turtles
Range and population / Demographics
Edit
Common in the Mushroom Kingdom
Koopa subspecies
Edit
Hammer Bros
King Koopa
Koopa Paratroopas
Magikoopa
Relationship with other species
Edit
...
Used to walk on four legs.
Ad blocker interference detected!
Wikia is a free-to-use site that makes money from advertising. We have a modified experience for viewers using ad blockers

Wikia is not accessible if you've made further modifications. Remove the custom ad blocker rule(s) and the page will load as expected.